---
Grand Relax from Vitra
The Grand Relax is a luxurious reclining lounge chair combining outstanding comfort with compact dimensions and a classic understated aesthetic.
When sitting down, the user sinks into the soft cushions, and the chair reclines thanks to an integrated and adjustable synchronised mechanism concealed within the seat.
The backrest can be locked in any position.
The outer backrest is covered with embossed split leather, forming a type of shield that enfolds the user, while defining the contours of the lounge chair.
---
Eames Plastic Armchair LAR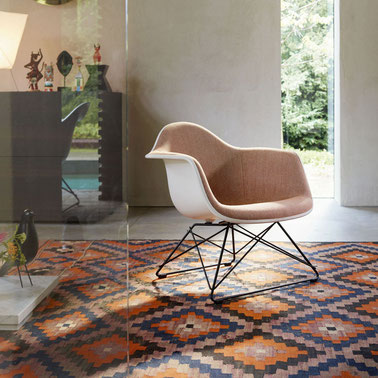 The LAR seems to have been one of Charles and Ray's favourite designs.
This also reveals how lightweight the chair is, and how easily it can be moved around. Thanks to its compact dimensions, the Plastic Chair LAR can also be used in smaller interiors, and the wide choice of colours for the shell, upholstery fabric, and base can be coordinated with diverse styles and settings. The steel wire base, which achieves maximum stability with minimum materials, acquired a charming nickname within just a short time on the market as a result of its unusual form.
---
Eames Segmented Tables Dining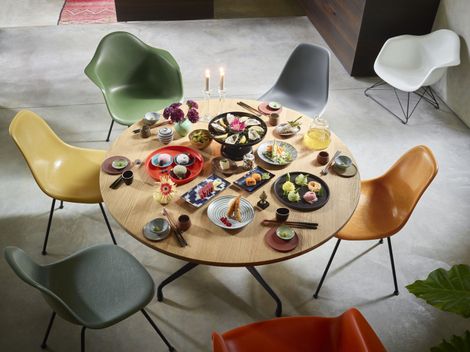 In addition to planning the meal, Ray immensely enjoyed preparing the table – a round Eames Segmented Table – with the aim of bringing pleasure to each individual guest.
The role of a table extends far beyond aesthetic considerations, as it is the communal and convivial heart of the home – a place where people can connect.
The Eames Segmented Table (Dining) is characterised by an interplay of dimensions, materials and colours, transforming the legendary classic into a comfortable, elegant dining table. With a round or boat-shaped table top in a choice of sizes, it allows spontaneous and informal seating arrangements in diverse dining settings.
---